Facebow Reference® AB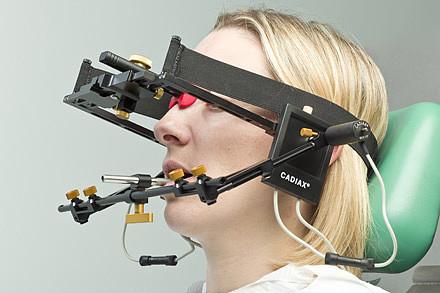 Face Bow

No model should be mounted without first determining a spatial jaw relation. With the Reference system, GAMMA offers the possibility of transferring arbitrary and exact models of the upper jaw. With the proven and tested 3D joint support the face-bows can be applied simply and safe.


Reference - anatomic face-bow
Parallel adjustable anatomic face-bow, with 3D joint support. With this face-bow, there is no undesirable axis displacement, e.g., from a shearing effect. Its box-like construction and double-clamping ensure the utmost stability.
In its construction, the Reference AB Face-bow is aligned with the AO-plane (hinge axis-orbital plane), the front reference point lies 22 mm below the lowest recession of the Glabella.
If the AO plane is left, an accessory set is available with adjustable orbital pointer. However, in this case, mounting is then only possible in the upper jaw transfer stand (Art. # 06-230510). Sterilizable, detachable ear-plugs.

For data recording with CADIAX® compact, the AB-Bow can be upgraded with easy-to-use accessories.
The advantages are obvious: one bow, two applications!


Reference - exact hinge axis with the Condylograph

A high-precision measurement device, for the dentist working with functional diagnostics. The upper face-bow is fixed securely to the head by means of 3-point support technology (Nasion and 2x on the forehead) and the head-neck flex-band. The side arms lie without pressure on the ear-saddle. The face-bow is mounted easily and safely and is comfortable for the patient to wear.
The light construction of the mandibular bow allows for precise setting of the registration pins onto the exactly determined hinge axis.
Why an exact hinge axis?
The graphic shows the effects of mandibular opening- and closing movements during changes in the position of the hinge axis point of rotation in the articulator. With the anatomic face-bow, the joint axis is mounted to a statistical axis point, derived from the examinations of a number of patients. There is then the possibility of considerable deviation of the mounted axis to the actual kinematic axis.
An exact mounting of the hinge axis is indicated in cases where vertical modifications are carried out, e.g., splint therapy or milling-in, vertical changes during reconstructions, in total prosthetics or implant prosthetics.
A further important point, with regard to diagnostic registration with CADIAX: in order to eliminate geometric distortions in the movement tracks, caused by rotation, the hinge axis must always be located exactly.

The upper jaw model transfer with exact localized hinge axis and individual reference plane in the Reference, Artex® and SAM® articulators.