G2 Concept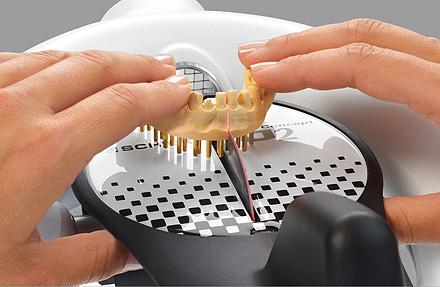 All-purpose model saw
Working principle
Until now, many models have necessitated saw cutting by hand, due to the limited space between prepared teeth or irregularities in the alignment of stumps.

With the new G2 Concept, these sawing operations can be carried out mechanically with the utmost precision, since the saw performs its function from below.
The G2 Concept provides for the optimum saw cutting of all models without damaging the preparation boundary.
Plaster saw with segmented diamond sawblade and line-marking laser
Performs all types of saw cut without damaging the preparation boundary
Line-marking laser ensures user-convenience and permits precise cut positioning
Ergonomic, futuristic design
Soft starting and instant stopping
Sensor technology ensures a high standard of safety (two- hand safety circuit)
Ball-bearing mounted direct drive with high pulling power
Method of use
The model, complete with pins, placed on the saw table and positioned with both hands. Thanks to the integral line-marking laser, accurate positioning can be carried out even without practice. Light pressure on the model lowers the saw table, permitting the saw blade to penetrate into the model, resulting in a clean saw cut at right angles to the plane of the table and parallel with the pins.
The precise depth of cut can now be determined to achieve the optimum appearance. Simple, clean, precise and time-saving sawing is thus assured.
The appliance also guarantees the safety of the user. Thanks to integral sensors, it can only be operated with both hands. An external vacuum extraction system reliably removes the sawdust through an integral extractor socket at the rear, directing it downwards. A 230 V socket is also provided at the rear for this purpose.