QUBE II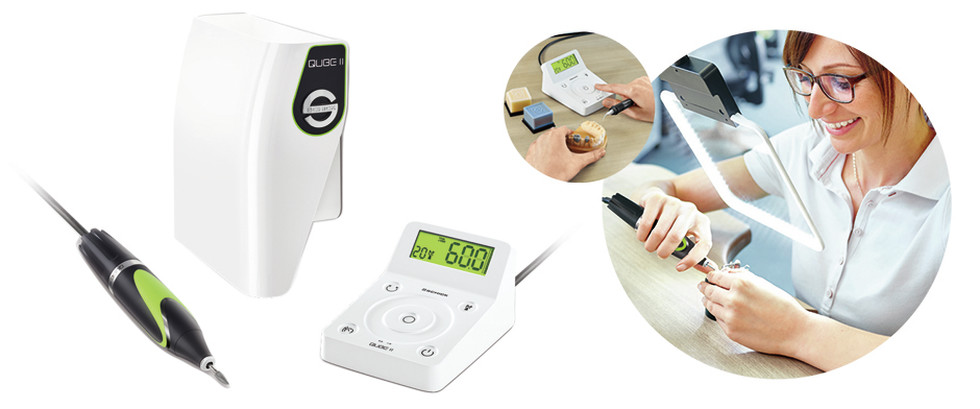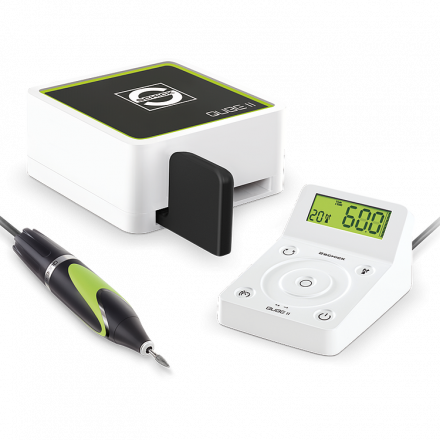 Modern, elegant and ergonomic design
Highly efficient
Highest performance parameters, the ultimate handpiece and a intelligent satellite - these are the special features of the new QUBE II micromotor.…


Because of its world leading performance parameters of up to 60.000 RPM and 9 Ncm torque, QUBE II is second to none. Due to the high RPM in combination with high torque QUBE II easily handles even the most difficult grinding, cutting and milling works in the laboratory.


Perfectly balanced
The new light weight and excellent balanced handpiece is ideally adapted to the physiology of the human hand and avoids constant strain on the sensitive hand anatomy. The special weight distribution in the handpiece means that the user can work without getting tired, thus leading to greater precision and performance capacity.
Many applications - one solution
The completely revised and updated system satellite is an additional characteristic of the new QUBE II. It is equipped with a big and easy readable illuminated display. All important information are in the user´s vision field.


The parameters of the optional electric wax knife from Schick – connected to the QUBE II control unit – can be called up and controlled with the system satellite, too.


All settings can be effectively adjusted with the touch-sensitive surface:
Number of revolutions (display, pre-selection, control)

Cruise control

Right and left-hand motion

Selection and adjustment of the electric wax knife from Schick

Long service life
Due to the high standard of quality, the use of high quality components and the perfect finish, Schick Dental´s QUBE II is characterized by long service intervals and a long service life.



Technische Daten
QUBE II

Number of revolutions
200 - 60,000 rpm
Torque
9 Ncm
Operating voltage
100 - 240 Volt
Operating frequency
50/60 Hz
Power
160 Watt
Overload protection

No waiting time when restarting

Warranty
1 year
5 years electric motor
Handpiece

Diameter
max. 29 mm
Length
144 mm
Weight without cable
180 g
Weight with cable
320 g
Cooling
Self sealing system without cooling
Drive system
Brushless DC-Motor
Concentricity
< 0,02 mm
Chucks
Ø 2,35 mm (standard)
Ø 3,00 mm (optional)
Tool change
Quick release
Downloads